Laser-Based Alignment System

Founded in 1984 in Sweden, the company Fixturlaser AB develops and manufactures laser-based measuring instruments for machine and machine component positioning. The Fixturlaser products are used in maintenance departments, in the processing industries, the pulp and paper, the production of electricity, etc.
Fixturlaser is well-known around the world for their measuring instruments; fast and easy to use. Their goal is to offer precision instruments with an intuitive interface which reduces the precision alignments time.
No wrong turns with the Fixturlaser GO Pro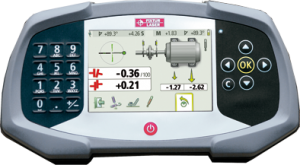 The wireless measurement units, the animated graphic user interface, and the color screen make the Fixturlaser GO Pro a great mid-range alignment tool. In addition, the user interface is adaptive, walking the user through the alignment process by recommending how to proceed depending on the measurement results.
HIGHLIGHTS:
Intuitive interface
4″ LCD color touch screen
Color coded results
3D animations
Large 30 millimeter sensors
Wireless Bluetooth® communication
24 month warranty
Check the brochure for all details:
→ Please contact us for more information or prices!