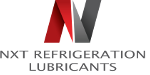 NXT Refrigeration Lubricants are unique in the industry: there are consulted industry experts, contractors and end users to ensure that NXT formulations are built to withstand real-world operating conditions. They have been developed and formulated specifically for the needs of customers with a focus on quality, performance and equipment protection. By choosing NXT Refrigeration lubricants, you can count on receiving the best solutions for your equipment available on the market!
Not all lubricants are alike, and neither are all refrigeration systems. Determining the right lubricant for a particular refrigeration system requires careful examination of many factors — many of which are often overlooked throughout the industry. To ensure that you make the right lubricant selection for your specific needs, you can count on the expertise of NXT Refrigeration.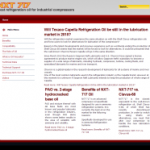 → Click here to visit our Refrigeration Oil website or contact our technical department for advice on correct product selection for your particular application.
→ More information on refrigeration oil and applications is available on Expert Advice on RM Support website. If you have any questions or require any extra information, don't hesitate to contact us. Our technical team will be happy to assist you with any queries that you may have.